Shipping
How to Order
There are several convenient ways to order Eco-Products.
Order directly from our online store
Place an order with a representative via Online Chat
Call Customer Care at 1-866-402-1831 ext. 2
(Business hours are Mon-Fri., 8 am to 5pm MST)
Order from a local foodservice distributor. Visit Find A Distributor to learn more.
Shipping Times
Typical domestic orders ship within 2 business days of processing.

Some orders ship faster if they are closer to our warehouses. The map below gives you a better estimate of shipping time across the country.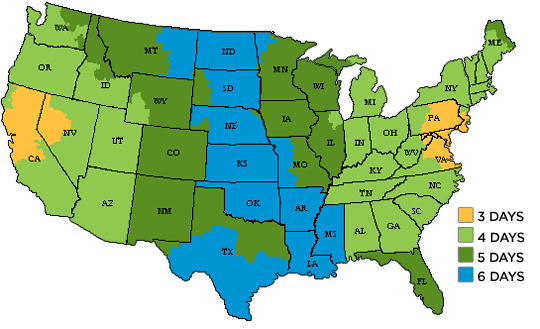 Estimated arrival dates don't apply to:
Deliveries to Alaska, Hawaii, PO boxes and rural areas
Deliveries made to U.S. territories, APO, FPO and international addresses
Items that are out-of-stock at the time of ordering
Please Note:
Estimated arrival dates are not guaranteed. Weather delays and other unforeseen circumstances may impact delivery time.
For shipping-related questions, please contact us directly at 1-866-402-1831 x 2 or email Customercare@ecoproducts.com
Packages Do Not Ship from Our Distribution Centers on the Following Holidays:
New Year's Day
Martin Luther King Jr. Day
President's Day
Memorial Day
4th of July
Labor Day
Thanksgiving and the day after
Christmas
Orders exceeding 25 cases or more may be shipped via common carrier.
Shipping & Handling Information
We ship UPS Ground. If you have a UPS account number, please enter your UPS account number in the appropriate field when checking out.
We can ship FedEx only if you have a FedEx account. If you are using a FedEx or DHL account number, please enter it in the appropriate field when checking out.
Free Shipping
Shipping is free on orders over $99.00. Free shipping applies to ground only; U.S. territories, APO, FPO addresses and expedited orders do not qualify for free shipping.
Order Tracking
You will receive a UPS tracking number on the day your package ships, within 1-2 business days of your order.
International Orders
We do not ship or distribute internationally at this time.